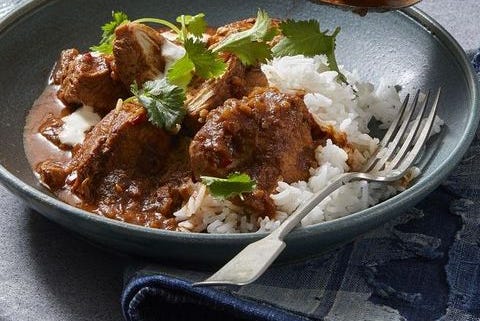 Mike Garten
Our fragrant Indian-style traditional chicken curry is savory and complex: Garlic, ginger, onion, and spices all contribute to the flavor, yet you can still get it on the table in 30 minutes. One secret: the garam masala, a spice blend typically consisting of cardamom, cinnamon, coriander, black pepper, cloves, cumin. Another: This chicken with curry recipe gets a boost from "blooming" the ground spices in the hot oil, since this sautéing process brings out their aromas. Make sure that your spices haven't been hanging around in your cabinet for too long — fresh spices make a world of difference in the flavor of the dish.(Organizing your spices is important too!)

Can you use chicken thighs for chicken curry? Absolutely! In many ways, chicken thighs are more forgiving than chicken breasts since it's harder to overcook them. You can sub in the same amount of boneless, skinless chicken thighs, cut into 1-inch pieces, and cook about 3 to 5 minutes longer in the broth. Have a little more time on your hands? Bone-in chicken pieces (drumsticks or thighs) are great because the bones add extra body to the sauce, thickening it naturally without needing to add any starch. You'll have to up the simmering time to about 20 minutes or so, depending on the size of your pieces.
Advertisement – Continue Reading Below
Yields:

6

servings


Prep Time:

0

hours

0

mins


Cook Time:

0

hours

0

mins


Total Time:

0

hours

30

mins


6
cloves garlic, crushed with press
1
red chile, finely chopped
2
tbsp.

finely grated peeled fresh ginger
1 1/2
lb.

boneless, skinless chicken breasts, cut into 2-inch chunks
1
c.

low-sodium chicken broth
1/4
c.

plain full-fat yogurt, plus more for serving 
Cooked rice and chopped cilantro, for serving
Heat 2 tbsp oil in large Dutch oven on medium-high. 
Add onion and cook, stirring occasionally, until it begins to change color. 
Reduce heat to medium and cook, stirring occasionally, until tender, 3 to 4 minutes more. 
Stir in garlic and chile and cook 1 minute. 
Stir in ginger, garam masala, coriander, paprika and ½ tsp salt and cook, stirring, 2 minutes. 
Stir in tomato paste and cook 2 minutes.
Season chicken with ½ tsp each salt and pepper, then add to pot and cook, tossing occasionally, until no longer pink, 5 minutes. 
Stir in chicken broth and gently simmer, covered, until chicken is cooked through, 6 to 8 minutes. 
Stir in yogurt and serve over rice, sprinkled with cilantro if desired.
Nutritional Information (per serving): About 220 calories, 8.5 fat (1.5 g saturated), 28 g protein, 395 mg sodium, 8 g carbohydrate, 2 g fiber
Advertisement – Continue Reading Below