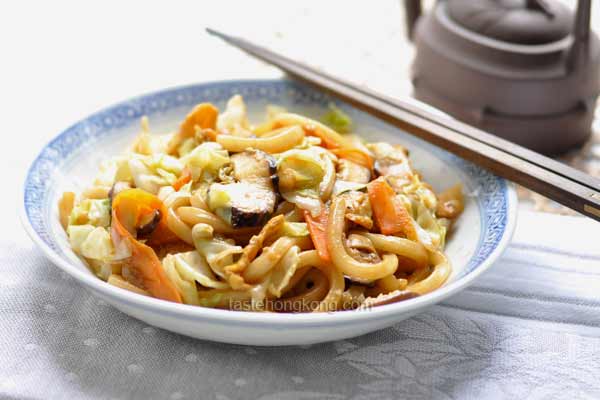 It seems that my injured shoulder is recovering fairly well as I could cook this stir-fry pretty fast. While the minor injury has kept me from carrying heavy objects, it also leads me to repeat dishes that are simple and easy to prepare. This is one of them.

It is also my humble version of stir-fried udon, somewhat like the Japanese yaki-udon (yaki means grilled, broiled or pan-fried; and udon noodles are thick wheat noodles). To me this is a more convenient version as the sauce mainly consists of soy and oyster sauce.
I often do stir-fried noodles in wok, here I use a cast iron balti. Smaller though, it doesn't seem to under-perform a Chinese wok for making a stir-fry.
Like cooking with a wok, I heat the balti to the point when it is just able to caramelize the foods, yet not burning them. It might be a bit tricky, but if we get it right, the wok or balti will impart flavors on the foods with its "breath", called "wok hei 鑊氣" in Chinese. Wok hei may be best practiced in professional kitchens however, we may do it in our home kitchens too. I'm going to share some little tips.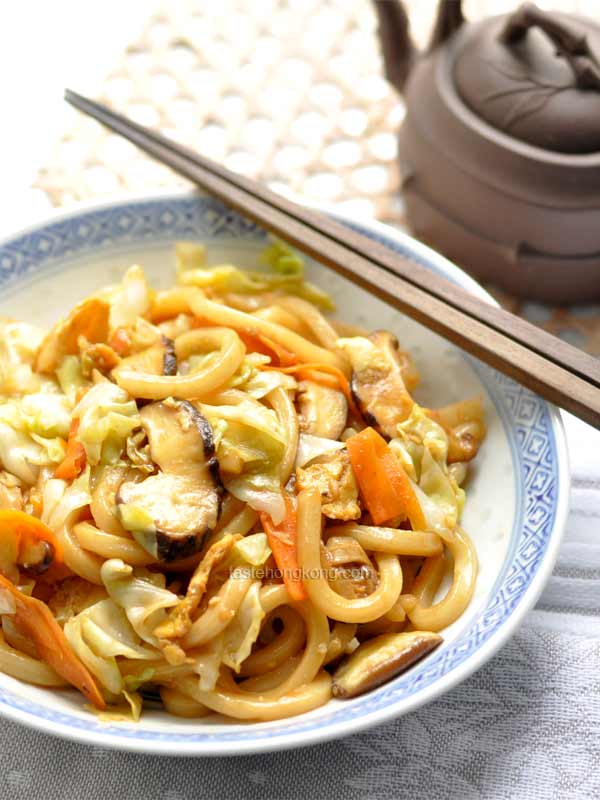 Ingredients
1 pack frozen udon noodles, ~230g
1 egg, beaten
1/4 cabbage, shredded
1/4 carrot, shredded or shaved into long strips
3-4 fresh black mushrooms, thinly sliced
1 shallot, finely chopped
1-2 cloves garlic, finely chopped
2 tbsp cooking oil
pinch of salt to taste
1-2 servings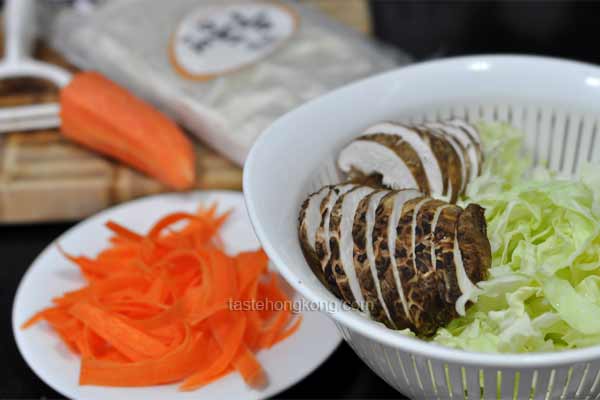 Sauce
1 tsp soy sauce
1/2 tsp dark soy sauce
1 tsp oyster sauce (you may turn this recipe into a vegetarian dish by using vegetarian oyster sauce)
1/4 tsp salt
1/4 tsp sugar
1 tsp cooking wine
1/2 tsp sesame oil
1 tbsp water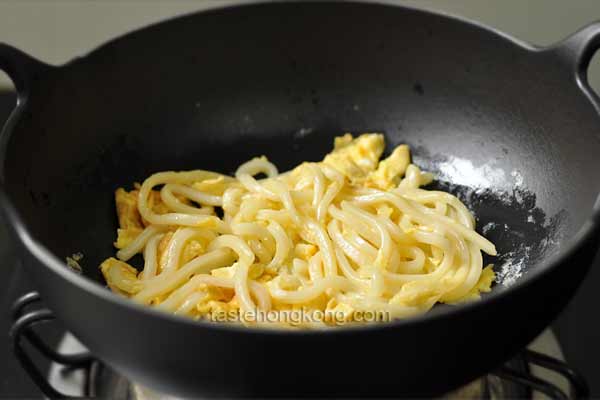 Coating the noodles with a beaten egg will make them less sticky to wok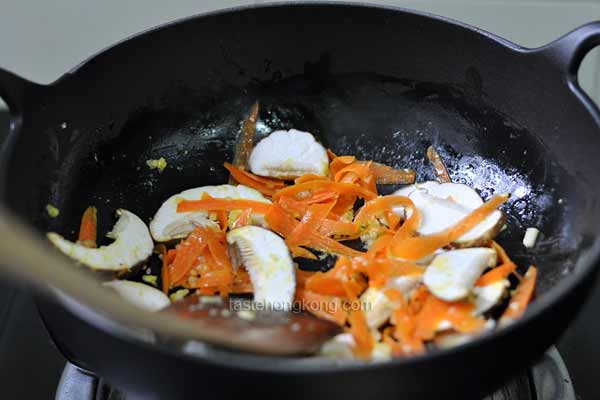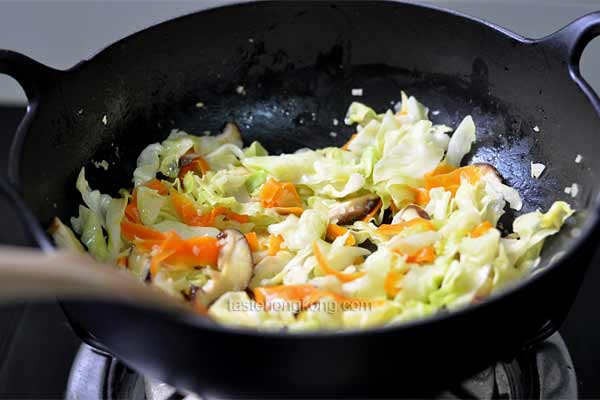 Stir-fry vegetables and mushrooms until they are about half-way cooked
Method
Thaw frozen udon noodles at room temperature; you may also move them from freezer to fridge the day before (also bring it to room temperature before cooking). Gently untangle noodles with fingers. Blot them dry if there is any excess moisture. For this recipe, I don't suggest thawing frozen udon by boiling as the noodles might turn soggy after repeated cooking.
Mix well all ingredients for the sauce. And add beaten egg to noodles, mixing briefly. Set aside.
Heat wok over medium-high heat; add a tablespoon of oil in it. The oil shall ripple a little when the wok is heated enough (also see tip); wait a few more seconds if it does not.
Add in chopped shallot and garlic, sautéing until golden, which shall take only seconds if the wok is really hot. Toss in carrot, and black mushrooms, flipping and stirring with a turner (better use a wooden type if you cook with a cast iron wok or balti) so that all of them constantly get heated. Add cabbage, keep stir-frying them until they are about half-way cooked, 1-2 minutes. Dish up.
Wipe clean the wok with dry kitchen towel if there is any water.
Heat another tablespoon of oil in wok, add in noodles with beaten egg. As the egg is set on the downside, flip to the other side. Coated with a beaten egg, the noodles should be less sticky to wok. Keep stir-frying until noodles are heated through.
Return vegetables and mushrooms to wok, and add in the mixed sauce, stirring through evenly. Keep stir-frying until they are just cooked, adding another pinch of salt to taste. Dish up.
Serve hot (with chili sauce if desired). It is always good to serve this as a light meal along with soup or congee.
Enjoy!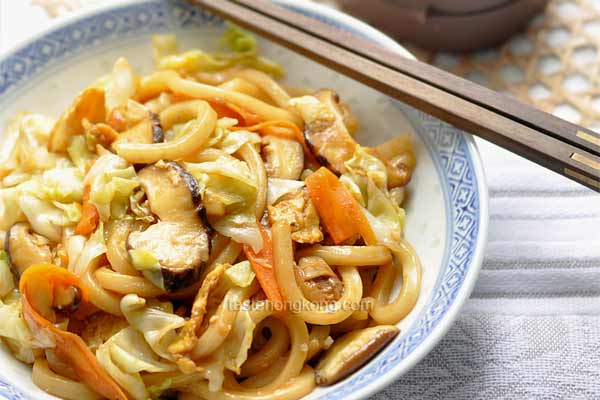 Tips
Udon noodles
* You may use fresh or dried udon noodles, but they both need to be cooked first according to package instructions but are 70-80% done. Also drained dry until no more water drips.
* Whichever noodles are used, they need to be drained dry or blotted dry, otherwise they might turn out soggy. Excess water will also dilute the flavor.
Vegetables
* If you rinse the cabbage and carrot, let them drip-dry in a colander. They can be somewhat damp, but with no more water drips out when added into wok.
Oil
* Use oil with high smoking point, like peanut oil or camellia oil.
Wok
* Apply few droplets of water in wok, if it is heated enough they should roll around immediately on contact (than simply bubble) . You may want to adjust heat from medium to higher level to prevent overheating.
* Do not over-crowd the wok or balti, fill it about one-third full. Therefore,if you need to cook for more than two servings of this, use a larger wok.
To get immediate updates and new recipes from my blog, you may also SUBSCRIBE them via RSS feeds. See you there.