Operation Madness vs Machines!
November 25, 2019 – TF2 Team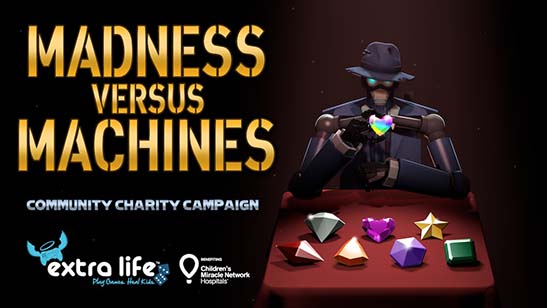 (Image credit – Mayor Rev)
Operation Madness vs Machines is finally here!
Brought to you by the same group behind Titanium Tank, Canteen Crasher, and Memes vs Machines, Operation Madness vs Machines features 98 new missions across 45 community maps, including 13 new maps! Five new gem medals and two new charity medals are up for grabs!
Madness vs Machines throws a new cooperative twist into the mix: Instead of working individually on your contracts, all participants work together as a massive team to complete the global co-op community contracts! A stockpile of precious gems ripped from robot arms (with their hands included, mind you!) awaits those who prove themselves in the war against the metal menace!
To top it all off, there's a charity drive to raise money for Extra Life!. All funds go straight to the cause, so while you battle the robot horde at the frontlines, you can help save children's lives back at home! Click here for instructions on how to donate and earn the prestigious heart gems!
This event is open to players of all skill levels. Official servers are available worldwide in Asia, Australia, South America, Europe, and North America. Free private servers are available for groups that wish to play together.
No registration is necessary to participate. Click here to start playing!
Important Links: